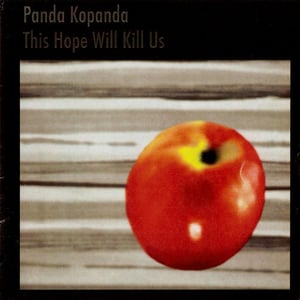 £

8.00
Debut album - This Hope Will Kill Us
Out 19 January!
Panda Kopanda's fantastic This Hope Will Kill Us is a super-confident
statement of intent from the Belfast four-piece – shamelessly poppy
but also pleasingly experimental. In this most competitive of years
they've moved to the front of the pack. How reassuring to find that
the first significant release of the year is more than worthy of the
razzmatazz. The first great Irish record of 2009. (Hot Press)
They've certainly come up with an album to cherish. Their lyrical
depth is matched by the production – rich yet raw, beautifully nuanced
and clearly the work of a band in the full knowledge of what they want
to achieve, not to mention the musical ability to pull it off – no
musical flourish feels tacked on or pointless and in all they make for
an album of rare depth, sophistication and replay value. The bar for
Irish bands in 2009 has been set high. (Alternative Ulster)
Hypnogog is the track from the long awaited This Hope Will Kill Us
that shows how far the Pandas have come. It's an astonishingly
accomplished, unsettling piece of music.
A fine, engrossing debut album …of dark hearted indie pop. The Pandas
have been slowly evolving from catchy beginnings into something
satisfyingly moody and considered. …a record that still manages to
thrill even when all the corners have been firmly nailed down.
Sloppiness also has its place of course, especially when married to a
healthy dose of musical genius. (Irish News)
This record is definitely worth the wait. They've used all their
experience and talent to create a unique sound, which is eminently
listenable and very memorable. The Pandas have obviously thrown their
heart and soul into this. (Go Belfast)